In honor of SMX East, last week was declared "Search Week" in New York City by Mayor Michael Bloomberg.
And apparently, Google took this announcement literally because they went on a week-long update spree! Pandas and Penguins and EMDs… oh, my!!!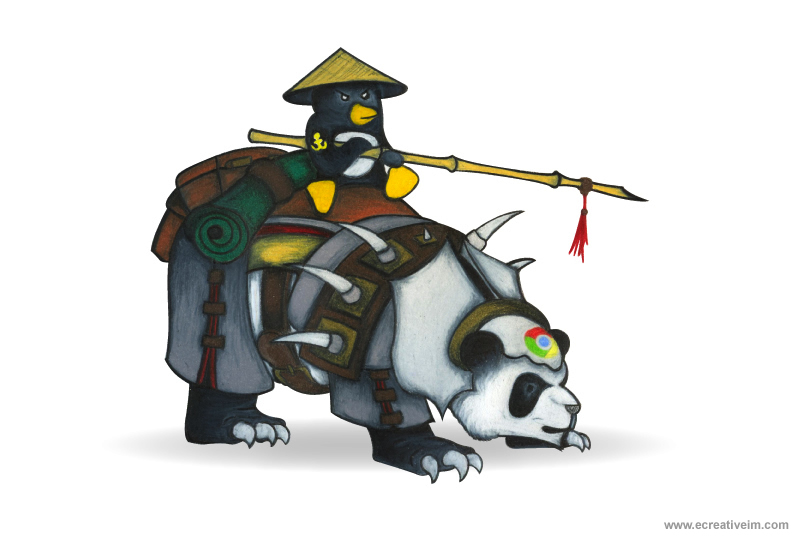 [Image Credit]
To help you make sense of it all, this week's edition of Gnome Likes is almost entirely dedicated to Google updates. And be on the look out for more detailed update-related posts later in the week (foreshadowing FTW)!
Now, it's recap time…
On Wednesday, Barry Schwartz reported that Google released a significant Panda update on September 27. According to Matt Cutts, this update was a Panda algorithm update (not just a data refresh).
Cutts also mentioned that this update affected "about 2.4% of English queries to a degree that a regular user might notice." I realize 2.4 looks like a small number, but in the context of search engine updates, it's actually quite large.
To put things into perspective, this is the largest percentage announced since the original Penguin update, which was announced to impact "about 3.1% of queries in English."
In addition to its size, this update is also notable for its timing. As I mentioned in last week's Gnome Likes, Google announced the EMD update on September 28. That's only one day after this Panda update.
Now, we're all aware of the fact that Google's search algorithms are constantly in a state of flux. However, even the biggest Google fanboy has to admit that these update announcements are getting shadier and shadier.
The original Penguin update was tightly sandwiched between two Panda updates, which made it significantly more difficult to diagnose. But now: we have a new Panda update, followed by the EMD update, followed by a new Penguin update.
That's 3 newsworthy updates in the span of a week!
One more final Panda-related note before we move on. Search Engine Land has decided to adopt a strict versioning system for all Panda, Penguin, and EMD updates. Previously, they were treating the updates like software with major and minor version numbers (e.g., Panda 3.9.1, Penguin 1.1, etc.).
For SEOs keeping score at home, it's Panda 20 selnd.com/R4pEgI Penguin 3 selnd.com/R4ocLi EMD 1 selnd.com/R4pJkz

— Danny Sullivan (@dannysullivan) October 5, 2012
In the future, if an update is released, its version number will be incremented automatically.
The SEO community has been eagerly awaiting another Penguin update since May, and on Friday, it finally happened. Sort of.
Back in August, Matt Cutts made a few controversial comments at SES San Francisco about upcoming updates. The comment that really sparked a panic in the SEO community was that upcoming updates would be "jarring and jolting."
Matt clarified these comments after the fact, but the overriding message remained in tact: the next few Penguin updates will have a more noticeable impact.
Now, here's Matt's official announcement for the latest Penguin update:
Weather report: Penguin data refresh coming today. 0.3% of English queries noticeably affected. Details: goo.gl/AF5kt

— Matt Cutts (@mattcutts) October 5, 2012
Based on Matt's comments at SES San Francisco, you have to wonder what this latest Penguin update actually means. 0.3% of English queries is NOT a "noticeable impact" (look no further than the most recent Panda update – its 2.4% impact is MUCH more significant).
Were Matt's previous comments blown out of proportion (as usual)? Or was Matt referring to the totality of the updates (i.e., releasing Panda 20, the EMD update, and Penguin 3 in a single week is definitely "more noticeable")? Or is this Penguin update just a small precursor for a much larger update that will be released shortly?
Time will tell. And we'll obviously let you know as soon as we know more details!
At the beginning of last week (before the aforementioned update announcements), Google released an updated version of their webmaster guidelines. Here's how Matt Cutts described the news:
Attention SEOs: Google updated our webmaster guidelines: goo.gl/Py01v Now with lots of examples–yay!

— Matt Cutts (@mattcutts) October 2, 2012
Admittedly, there's nothing mind blowing in these guidelines. However, they do list a lot of standard best practices (e.g., create an information-rich site, avoid broken links, don't deceive your users, etc.) for creating a useful website.
Will you automatically rank #1 if you follow these guidelines? Of course not. But they will help you create a solid foundation that gives your site a better chance to succeed.
If you've read the guidelines previously, you'll only notice a few "big" changes. The most notable addition is a new section about rich snippets. Other than that, the updated version simply adds more examples and clarifies a few topics (e.g., link schemes).
Overall, it's worth a quick read, but it's primarily useful as a refresher for the basics.
Finally, something that doesn't involve Google! In this week's Whiteboard Friday, Joanna Lord presents 10 ways to get more customer feedback. One of the absolute best ways to improve your company is to listen to your existing customers so you definitely need to watch this video:
Over to You!
I hope you enjoyed this week's SEO recap, and I'd love to hear from you in the comments. What were some of your favorite posts this week? What do you think about Google's latest update spree? Was this week "jarring and jolting," or do you think we've only encountered the tip of the iceberg?