At Web Gnomes, we obsessively monitor the world of Internet marketing so that you don't have to. We enjoy staying current on all of the latest news, and we love sharing that knowledge with our readers and clients. Here are a few of our favorite Internet marketing posts from this past week:
When Matt Cutts speaks, the SEO world listens… and then overreacts as if the sky is falling. And that's exactly what happened this week after Eric Enge published his recent interview with Matt.
The interview begins with Eric creating a hypothetical example that involves frog-related content. Through this example, Matt makes it clear that content creators should strive to be unique (i.e., avoid duplicate content) and valuable (i.e., bring something new to the table).
… that is a part of what our algorithm does: work to find quality diverse results that help solve problems for users.
The interview then turns to link building, and Matt describes his concerns about infographics that employ spammy techniques (e.g., poorly researched information, deceptive linking practices, etc.).
During this discussion, Matt makes a comment that inadvertently started a shit storm this week: "I would not be surprised if at some point in the future we did not start to discount these infographic-type links to a degree."
This one comment sparked a full blown panic in the SEO community: "INFOGRAPHICS ARE WORTHLESS!!!" Please don't be that guy (or girl). Before Matt dropped the aforementioned quote bomb, he clearly prefaced his comments: "In principle, there's nothing wrong with the concept of an infographic." He also gave this valuable advice:
Any infographics you create will do better if they're closely related to your business, and it needs to be fully disclosed what you are doing.
Next, the interview moves to duplicate content as it pertains to websites that have numerous geographical locations. Eric presents the example of a pizza chain with stores in 60 cities, and Matt explains that each city's page on the site should be unique.
This is another controversial part of the interview because Matt offers this advice for the hypothetical pizza example: "In addition to address and contact information, 2 or 3 sentences about what is unique to that location and they should be fine."
Numerous people in the SEO community read that quote and began proclaiming that pages only need 2 or 3 sentences now. Matt's comment pertains to a specific situation (e.g., a contact page for a site with numerous geographic locations). He is not advocating that you stop creating substantive content on your site!
Finally, Matt ends the interview with generic advise that everyone should keep in mind as they attempt to rank well in the search engines:
The main thing is that people should avoid looking for shortcuts.
In this post, Sujan Patel describes how to use Bing's Link Explorer tool. First, he describes each of the tool's options (e.g., Filter by Site, Score, Source, etc.), and then, he offers 3 very important use cases:
Use #1 – Spy on Your Competitors' Links
Sujan's first use case is competitive analysis. Unlike many of tools offered by Bing Webmaster Tools, which only pertain to sites you control, the Link Explorer tool can be used on any URL. Consequently, the tool can be used to identify backlinks for any of your site's competitors.
Here is a screenshot from Bing's Link Explorer for Rackspace's website: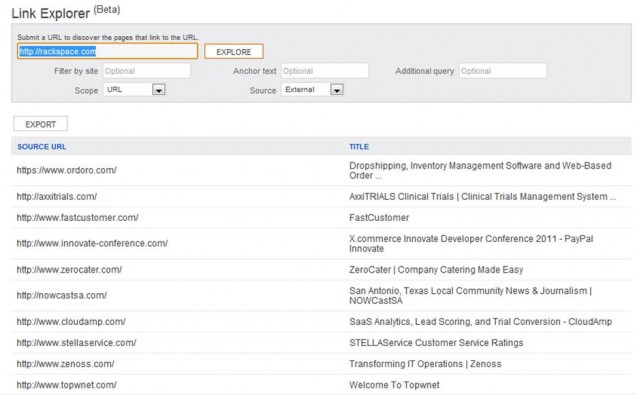 Use #2 – Check Your Own Backlink Distribution
In addition to analyzing the backlinks of your competitors, you can also use Bing's Link Explorer to investigate your site's backlinks.
In this part of the post, Sujan spends a lot of time discussing the various characteristics of a natural link profile (and the importance of appearing natural post-Penguin). Specifically, he suggests asking the following questions about your backlinks:
Are your links coming from a variety of sources or from a narrow range of sites?
Do you have links from many high-profile sites, or are they all coming from pages with low PageRank values?
Which link sources would you expect to see in a natural link profile that are currently missing from your site's list of backlinks?
Use #3 – Identify Potentially Damaging Anchor Text Trends
One of the things the Penguin Update seeks to identify is a link profile with overoptimized anchor text (i.e., a disproportionate number of backlinks with exact match anchor text).
As a result, Sujan shows how to use Bing's Link Explorer to check for overoptimized anchor text. Simply use the "Anchor text" search field to narrow your search to links that use specific anchor text phrases. Then, identify what percentage of your link profile is dedicates to various phrases.
If you're looking for SEO analysis tools, this is the post for you! Previously, we gave you 33 free SEO tools to help take your SEO to the next level. Now, we're trying to do the same for your SEO analysis :-).
You'll need to read the post for the details, but here's the list of tools:
WooRank
HubSpot's Marketing Grader
SiteTrail
Traffic Travis
SEO Workers
Lipperhey
SpyderMate
DIYSEO SEO Report Card
Seoptimer
Free SEO Analysis by Web Gnomes
Now that you know the tools, read the post to learn how to use them… and then, go play with them!
In this week's edition of Whiteboard Friday, Rand gives 8 outstanding tips for creating effective slide presentations. What's the most important tip? Bullet points kill kittens! You'll have to watch the video for the other 7…
Happy Saturday, and enjoy your weekend!