At Web Gnomes, we constantly monitor the world of Internet marketing so that you don't have to. We enjoy learning the latest and greatest techniques, and we love sharing that knowledge with our readers and clients. Here are a few of our favorite Internet marketing posts from this past week:
Is your business blog making fundamental mistakes that are hampering its success? This post will help you answer that question, and more importantly, it will help you correct your blog's issues and get your content marketing efforts back on track!
Here's a list of the biggest mistakes identified in the post:
Ugly, outdated or not customized WordPress theme – If you're using the default theme that came with your WordPress installation, you're missing a valuable opportunity to differentiate your company's brand.
Rare, irregular postings – You can't build an audience if you're not regularly saying something.
Impersonal, public relations writing style – Talk to your audience – not at them. You want your posts to generate a conversation.
Long, fuzzy or cryptic headlines – Write effective headlines that entice readers to keep reading.
Self centered choice of topics – You're not writing for yourself; you're writing for your audience!
Be sure to read the article for even more blogging mistakes to avoid!
In this post, Alan Bleiweiss provides a useful case study that describes how he helped a site recover from a significant Panda-related organic search traffic loss.
Alan begins by describing his process for identifying an update-related traffic loss. If you've ever helped someone recover from Panda or Penguin, this process will be extremely familiar: use the site's analytics to identify traffic anomalies; look for a search engine update that correlates to the anomalies, and make sure the anomalies only impact organic search traffic (i.e., it's not a site-wide issue that's hurting all traffic sources).
Next, Alan gives a few details about his SEO audit process, and he points out the biggest problems with the site. These problems include a messy (and unfocused) information architecture, a large dose of duplicate content, extremely poor performing pages (i.e., pages that took more than 30 seconds to load), and a sparse backlink profile.
Check out my recent SEOmoz article for more information about
how to perform an SEO audit
, and if you need someone to conduct an
SEO audit
on your site, let us know. We'd love to help you!
The post concludes with a list of Alan's recommended action items for the site, followed by graphs that show the impact of those recommendations once they were implemented. Here's a nice summary image of the site's recovery:

As Google continues to fill more and more of its SERP real estate with its own services (e.g., Knowledge Graph results, Google+ Local results, etc.), you have to take those services into account when evaluating your site's competition. In this post, Eric Covino emphasizes that point as he reviews the fundamentals of evaluating SERP competitors.
Eric begins by offering the following list of competitor evaluation metrics:
Domain Age
Appearance of Known Brands in the SERP
Anchor Text Profile
Quality/Size of Backlink Profiles
Spammy Link Practices
Then, he goes through a few keyword examples to showcase instances where Google has effectively squeezed out the "organic" results. This SERP for [boston hotels] is one of the more alarming examples: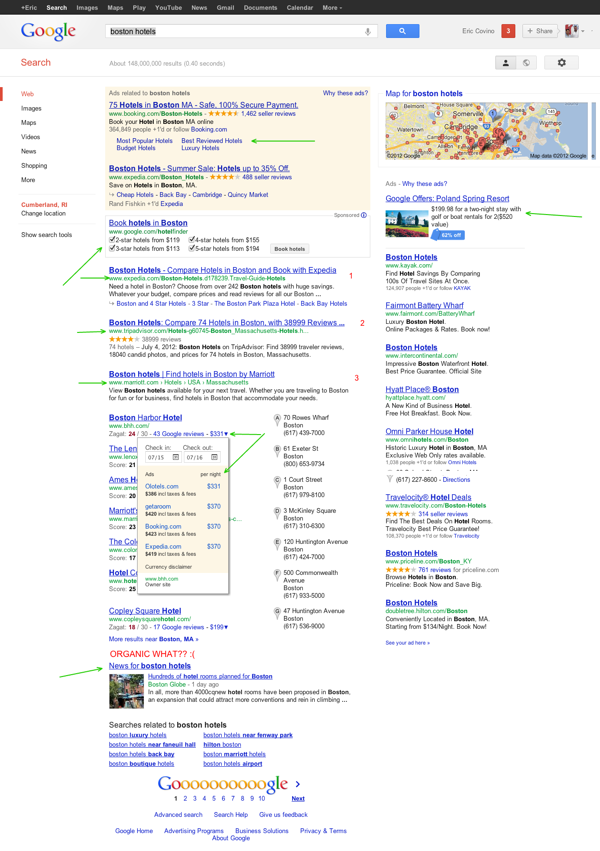 Finally, Eric describes ways to identify the best keyword from a collection of similar options, and he gives techniques for finding high value keywords that aren't necessarily attracting large search volumes.
The post is definitely worth a read. If nothing else, you should check it out for the Chappelle video at the end 😉
This week, Blue Caribu released an interesting infographic that clearly illustrates the popularity of the SEO industry on the Internet:

Enjoy the rest of your weekend!