Last week was a short week in the U.S. due to Labor Day, but it didn't diminish the quality of the posts that were written!
In this week's recap, we cover innovative uses for Google Alerts, tips for an effective local SEO campaign, steps for running a successful contest, and ways to build your Twitter following with Followerwonk.
Now, let's get to it…
In this post, Matthew Woodward describes Google Alerts, and he provides a few use cases that can help you monitor various aspects of your online marketing strategy.
For those unfamiliar with creating Google Alerts, here is a screenshot of the creation form. As you can see, it is extremely easy to use: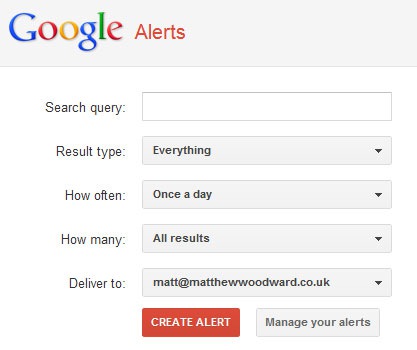 For a full list of Matthew's use cases, read the full post. Here are a few of my favorites:
Monitoring Brand – Google Alerts is a great tool for monitoring online conversations about you and your brand. You can use your site's URL as well as your brand name.
Monitoring Competitors – In addition to your brand alerts, you can also monitor conversations about your competitors (e.g., feedback, new links, etc.).
Monitoring Questions in Your Niche – An easy way to identify popular questions in your niche is to create a Google Alert (e.g., "how * [niche]", "is * [niche]", etc.)
Monitoring Content Distribution – Google Alerts can help you monitor how well your most important pieces of content are being shared (and who is actually sharing them).
Finding New Guest Post Opportunities – This tool offers a great way to find sources for guest posts. You can use queries such as "write for us [topic]", "this guest post [topic]", etc.
Regional Based Monitoring – Alerts give you the ability to monitor geographically oriented topics.
Discovering New Niches – In addition to monitoring things you already know about, you can also create Google Alerts to discover new topics of interest (e.g., "new * this year", "new * 2012", etc.).
This post by Eric Covino does an excellent job of describing how to launch a successful local SEO campaign.
Eric begins by cautioning that local SEO can be much more difficult than people expect, and he lists a number of factors that contribute to its difficulty. These factors include the unpredictability of local SERP triggers (i.e., uncertainty surrounding which queries actually return local results), link difficulty, and the client's budget.
Next, Eric defines a few important components of his local SEO framework:
Keyword Research – Keyword research is extremely important for local SEO, but it is also more difficult because the search volume is lower (and the keyword tools are typically less accurate). Eric provides a few ways to find more local search volume (e.g., use the closest bigger city, move up to state level modifiers, etc.).
Site Architecture & Content – Numerous best practices exist to help you create an effective site architecture and content strategy. A few of these best practices include avoiding duplicate content, not overusing keyword-rich anchor text in internal links, etc.
Tracking – Keeping track of your campaign's success is an important component of any SEO strategy (local or otherwise). Eric presents a few analytics packages, including Google Analytics, Clicky, and Mint.
Link Building – In local SEO, you care about traditional links AND citations. For citations, Eric recommends using Whitespark's local citation finder.
Expectations and Budget – As with most SEO activities, it's important to educate clients about the costs (and expected returns) associated with various strategies.
Eric's post is a great introduction to the local SEO process, and if you have a geographically focused business, it is definitely worth a read.
In this post, Brandon Dennis gives 9 steps for running a successful contest to improve the visibility of your brand.
You can read the full post for more details, but here's a summary of Brandon's steps:
Know Your Audience – Make sure your contest targets your specific audience (i.e., offer prizes that will be appealing to your potential participants).
Write Clear Rules – If your rules are not clear and precise, people will manipulate them. Don't assume anything, and try to answer as many questions as possible.
Be Personal and Reachable – While your contest is running, be available to interact with your participants. Have fun with it, and make sure it's a positive experience for everyone involved!
Be Impartial – You want your participants to be actively engaged in promoting the contest, but you don't want to give preferential treatment. To maintain the integrity of the contest (and your brand), you have to be fair.
Have Great Prizes & Show Them Off – Offer contest prizes that will excite your audience. An excited audience will lead to a successful contest!
You Don't Have to Empty Your Pockets – You can be creative with your contest prizes. You don't have to break the bank to generate a compelling contest.
Use Every Tool at Your Disposal – Don't be shy about promoting your contest. Put it in front of as many people as possible, and use as many tools (and social networks) as possible.
Know What You Want to Get Out Of It – Clearly define your goals for the contest so you can evaluate its effectiveness.
Track Your Success or Failure – Once you have clearly defined your contest's goals, use analytics to track the contest's progress and ultimate success.
Here is a screenshot of the Facebook engagement generated by one of Eric's contests:
For even more engagement screenshots, check out the full post!
In this week's edition of Whiteboard Friday, Rand Fishkin offers 4 excellent use cases for Followerwonk. If you'd like to grow your Twitter following, check out this video:
Over to You…
I hope you enjoyed this week's recap, and I'd love to hear from you in the comments!! What were some of your favorite posts this week?