Before I dive into this week's exciting recap, I need to add a quick addendum to the search result hijacking post that was featured last week.
In that post, Dan Petrovic describes how he was able to hijack the search results of four different websites by posting duplicate versions of their content on pages with higher PageRank values. On Friday, Dan posted the following screenshot:
Apparently, Google finally caught on to Dan's experiments, and the hijacked content was correctly attributed to the appropriate webmasters.
I want to believe this is an encouraging sign that hijackers will eventually get caught, but due to the popularity of Dan's original post, it's possible that Google took manual action in this case. So I'll let you come to your own conclusion.
Now, with that update out of the way, let's get on with this week's show…
This is an outstanding post by Scott Skinner. If you don't already know Scott, I want you to take a moment and read this. He recently burst on the scene, and I'm expecting really big things from him!
Scott begins the post by hammering home one very important point: "you should be busting your ass" to make your target audience happy. And a great way to do that is by providing a user experience on your site that doesn't suck.
Here's a quick summary of Scott's user experience tips, and as always, I strongly encourage you to read the full post for more details:
Idiot-Proof Your Popular Posts – Make it insanely easy to find your best work. When new visitors arrive at your site, they won't hunt around for it; you have to put it right in front of them!
Use target="_blank" for External Links… Seriously! – Nothing is more distracting than a link that replaces the current document. Open the link in a new tab or window, and let me make the navigation decisions.
Let Me Login to Comment w/ My Twitter Account – Your visitors don't want to create new accounts just so they can comment on your site. Let them participate by leveraging accounts that they already have!
I Attach to Actual People Way More So Than I Do to Cold Faceless Entities – People don't like lifeless robots. Don't be afraid to put yourself out there, warts and all.
Stop Hiding the Fact That You Want Me to Buy Something – Be proud of what you're selling, or don't sell it!
Prove That You're a Team Player – People are far more likely to support you if you have a track record of supporting others.
Seriously, go read Scott's post. It's informative, and more importantly, it's incredibly entertaining!
In this post, Nick Eubanks presents a case study about a site he built that received 100,000 monthly organic visits in only 9 months: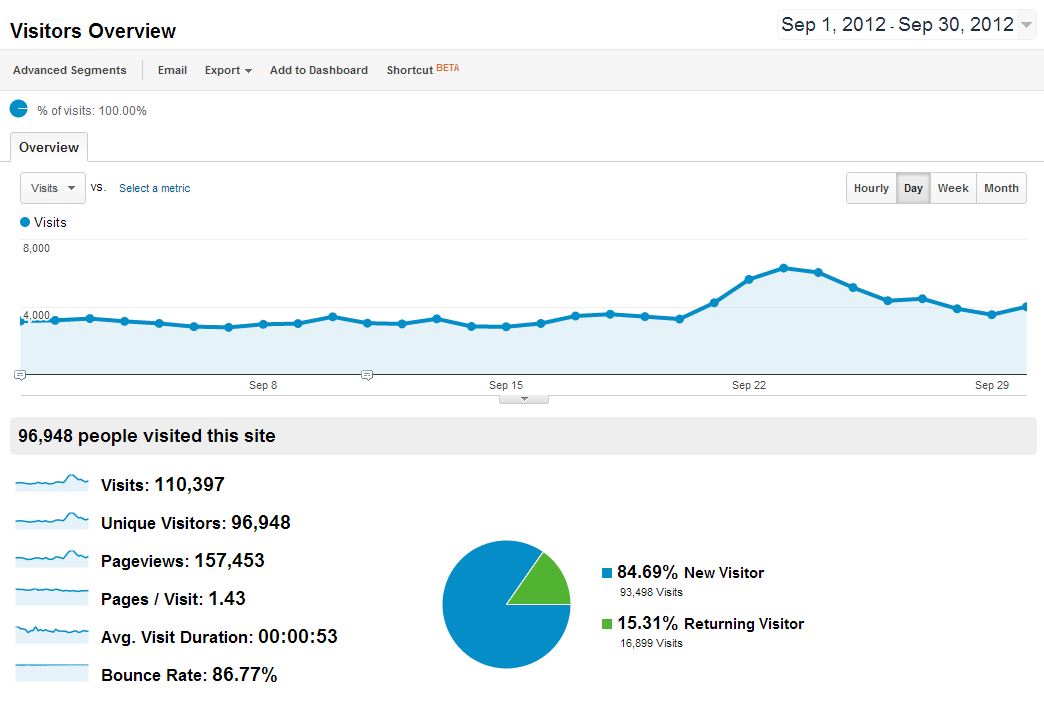 First, Nick presents his team's three key drivers for traffic growth: (1) math – they built a financial model to evaluate keyword opportunities; (2) analysis – they tested their model on various verticals to fine tune its parameters; (3) pumpkin hacking – only focus resources on what works.
Next, he details the site's keyword strategy. Starting with a keyword database of around 50,000 keywords, Nick and his team began collecting data for each keyword. Then, they ran the keywords through their model, and they aggressively tested the ones with a high probability of success.
Nick also emphasizes the importance of an information architecture that is scalable (it can grow as large as you want), crawlable (search engines can easily find and index it), and tiered (authority flows through it in an optimal manner). Additionally, he discusses the value of an effective pre-launch, and he cautions that your hosting infrastructure is critical.
Overall, this is an excellent post about a real world, large-scale content marketing project, and you should definitely check it out for the finer details.
Paddy Moogan presents the results of a quick outreach experiment in this post. Specifically, he sent 122 emails (they were identical except for website-specific personalizations) to various webmasters, offering them a guest post. All of the emails were sent to travel websites, and they didn't offer money or request a link.
Here's a quick graph of Paddy's outreach results:
Paddy received 53 replies. 10 immediately accepted the guest post, 17 wanted more information, and 26 would only provide a link if he paid for it (9 of those people provided a price in their reply, and the average cost of a link was $285).
After presenting his results, Paddy also makes a few more interesting observations:
This is an extremely small sample size so it's impossible to make definitive statements based on these results.
The respondents were extremely SEO savvy. Many of them knew what Paddy wanted (a link), and they wanted to be compensated.
The average quoted price was $285, and the highest quoted price was $700. $700 for a single link!
Although this is a small experiment, it raises a number of interesting questions for everyone in the industry. And in honor of Paddy's recent move to Queenstown, "Good on ya!"
This is an excellent Google+ post by Gaz Copeland that spawned a lively debate about one of the industry's current buzzwords ("Real Company Sh*t"). Here's a screenshot of Gaz's original post:
Please read the corresponding comments on Google+, and feel free to join in on the conversation!
Now, It's Your Turn…
I hope you enjoyed this week's SEO recap, and I want to hear from you in the comments. What were some of your favorite posts this week? What's your best user experience tip? How do you define #RCS?